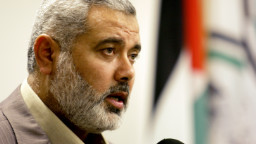 Marriage: Amal Haniyeh
Children: 13
Education: Islamic University of Gaza, 1987
Timeline
1987-1988 – Joins Hamas, during the first intifada.
1988 – Imprisoned for six months.
1989 – Sentenced to three years in prison.
December 1993 – Returns to Gaza and is appointed dean of the Islamic University.
1997 – Becomes an assistant to Sheikh Ahmed Yassin, leader of Hamas.
April 2004 – After the deaths of Hamas's two previous leaders, Haniyeh is appointed part of a secret "collective leadership" with Mahmoud Zahhar and Said al-Siyam.
January 26, 2006 – Hamas wins a landslide victory in the Palestinian legislative elections. Hamas wins 76 seats, and Fatah 43 seats in the 132-seat Palestinian Legislative Council, giving Hamas a majority.
March 29, 2006 – Sworn in as prime minister of the Palestinian Authority.
Early June 2007 – After a week of battles between Hamas and Fatah, Hamas seizes control of the Gaza Strip.
June 14, 2007 – Abbas dissolves the government and dismisses Haniyeh as prime minister. Haniyeh rejects this and remains the de facto leader in the Gaza Strip.
December 8, 2019 – Haniyeh arrives in Turkey, the first stop on a tour. It is his first international tour since he was elected in May 2017.