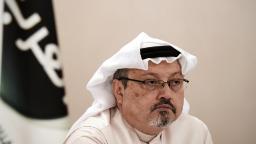 Although the CIA has concluded that the crown prince personally ordered Khashoggi's murder,
US President Donald Trump
has signaled he will not take strong action against Saudi Arabia, a key US ally, or its crown prince, despite pressure at home and internationally.
Birth place: Medina, Saudi Arabia
Birth name: Jamal Ahmad Khashoggi
Marriage: Rawia al-Tunisi; at least one other previous marriage
Children: with Tunisi: Salah, Abdullah, Noha, Razan Jamal
Education: Indiana State University, BA in business administration, 1983
Other Facts
Khashoggi is pronounced kha-SHOOG-jee (with a soft J) or kha-SHOOK-jee (Both are correct.)
Khashoggi's uncle was billionaire arms dealer Adnan Khashoggi, who played a part in the Iran-Contra scandal.
Timeline
1999-2003 – Deputy editor in chief of Arab News.
2003 – Editor of Al Watan daily for two months but is fired after publishing critiques of the conservative Wahhabi religious establishment in Saudi Arabia.
2003-2007 – Serves as media adviser to Prince Turki al Faisal, Saudi ambassador to the United Kingdom, and then to the United States.
June 2010 – Appointed by Prince Alwaleed bin Talal to lead a new 24-hour news channel, Al-Arab.
February 1, 2015 – Al-Arab launches out of Manama, Bahrain. The government orders it to be shut down after less than 11 hours on the air, following an interview with an opposition leader.
Late 2016 – According to Khashoggi, the Saudi government banned him from Twitter and pressured Al-Hayat to cancel his column, after he warns against supporting Trump.
October 3, 2018 – Turkish officials report Khashoggi is still inside the consulate but the Saudi government asserts that he left the consulate after his visit. Bin Salman says in an interview that he will allow Turkey to search the consulate, as "we have nothing to hide."
October 9, 2018 – A senior Turkish official claims that the highest levels of the royal court in Saudi Arabia ordered the murder of Khashoggi. The next day, a Saudi official says the kingdom "categorically" denies "any involvement in Jamal's disappearance."
October 11, 2018 – The Washington Post first reports that the Turkish government notified US officials that it is in possession of audio and video recordings proving that Khashoggi was killed in the consulate.