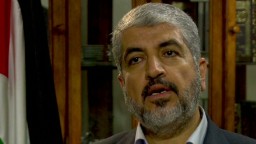 Father: Imam, name unknown publicly
Mother: Name unknown publicly
Marriage: Name unknown publicly, (1981-present)
Children: Seven
Education: Kuwait University, Bachelor of Science in Physics, 1978
Religion: Sunni Muslim
Timeline
1967 – After the Six-Day War, Meshaal's family moves from the West Bank to Jordan and then to Kuwait.
1971 – Meshaal joins the Muslim Brotherhood.
1978-1984 – Works as a physics teacher in Kuwait.
1980 – Founds the Islamic League for Palestinian Students.
December 1987 – Palestinian cleric Sheikh Ahmed Yassin founds Hamas, a spinoff of the Muslim Brotherhood. Meshaal joins and becomes the leader of the Hamas chapter in Kuwait.
1991 – Meshaal settles in Jordan and leads its Hamas chapter. He is in charge of international fund-raising.
1996 – Becomes chief of Hamas' political bureau.
September 22, 1999 – Meshaal, along with two other Hamas leaders, is accused of illegal political activity and briefly imprisoned in Jordan. After his release, Jordan's King Abdullah II closes Hamas' office in Amman and expels Meshaal from the county. Meshaal moves to Qatar.
March 22, 2004 – Yassin, leader of Hamas, is killed by Israeli air strikes.
March 23, 2004 – Dr. Abdel Aziz Rantisi is named as Yassin's successor.
January 26, 2006 – Hamas, participating for the first time in Palestinian parliamentary elections, wins a landslide victory. Hamas wins 76 seats, and Fatah 43 seats, in the 132-seat Palestinian Legislative Council, giving Hamas a majority.
December 27, 2008 – Israel launches Operation Cast Lead, air strikes against Hamas targets in Gaza in retaliation for continued rocket attacks against southern Israel. A ground offensive begins on January 3, 2009.
January 29, 2012 – Meshaal makes his first official visit to Jordan since being expelled in 1999. He and Qatar's Crown Prince, Sheikh Tamin Bin Hamad Al-Thani, meet with King Abdullah II.
February 2012 – Meshaal moves to Doha, Qatar.