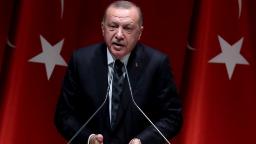 Father: Ahmet Erdogan, coastguard and sea captain
Mother: Tenzile Erdogan
Marriage: Emine (Gulbaran) Erdogan (July 4, 1978-present)
Children: Two daughters and two sons
Education: Marmara University, Faculty of Economics and Administrative Sciences, 1981
Other Facts
Active in Islamist circles in the 1970s and 1980s.
Before his political career, Erdogan was a semi-professional football (soccer) player.
Erdogan has also been heavily criticized for failing to protect women's and human rights, curbing freedom of speech and attempting to curb Turkey's secular identity.
Has called social media "the worst menace to society."
Timeline
1984 – Elected as a district head of the Welfare Party.
1985 – Elected as the Istanbul Provincial Head of the Welfare Party and becomes a member of the central executive board of the party.
1994-1998 – Mayor of Istanbul.
1998 – The Welfare Party is banned. Erdogan serves four months in prison for inciting religious hatred after reciting a controversial poem.
August 2001 – Co-founds the Islamist-rooted Justice and Development Party (AKP).
2002-2003 – Erdogan's AKP wins the majority of seats in parliamentary elections, and he is appointed prime minister.
2003-2014 – Serves as prime minister.
June 2011 – AKP wins by a wide margin in the parliamentary elections, securing a third term for Erdogan.
December 2013 – Corruption probe begins which investigates more than 50 suspects, including members of Erdogan's inner circle. The following month, the government dismisses 350 police officers amid the investigation. Ten months later, the prosecutor drops the inquiry.
August 10, 2014 – Erdogan is elected president during the first-ever direct elections.